Be CLINCIAL's Health Program in San Ramon
We call it our Be WELL! program!
Spend an Hour with Us and Change Your Life
At Be CLINICAL, we believe that you can live a wonderfully healthy life, where you look and feel fabulous into your 70's, 80's, 90's and beyond. What makes Be CLINICAL different is that we are fusing 360 degree Medicine and Aesthetics together to create science-based outcomes, resulting in a younger, more beautiful you–both inside and outside.
What do you get from the Be WELL! program? Simply put, we:
Optimize your weight
Optimize your cardiovascular and metabolic parameters
Optimize your vitamin and mineral levels
Optimize YOU!
The Be CLINICAL Difference – Our 360 Degree Health Appointment
When you first come to our office, you will have an hour-long, results-based consultation with Dr. Frie herself. She will listen to you, with the goal of learning everything that she can about you from both your dialogue and a battery of tools and tests. She will answer any questions you may have and then create a customized 360 degree Wellness Plan for you.
Keep in mind – this is NOT a check the box/get it over with physical. We go beyond the norm with our Be WELL! program to collect all the information we need to best treat and care for you as a unique individual.
How Our Be WELL! Program Works
General Health Information
Our Be WELL! Program starts by collecting all your needed health information. This will give Dr. Frie insight as to what some of your existing concerns may be, as well as what can be done to help you become your healthiest self. This can be done via our HIPAA compliant Patient Portal.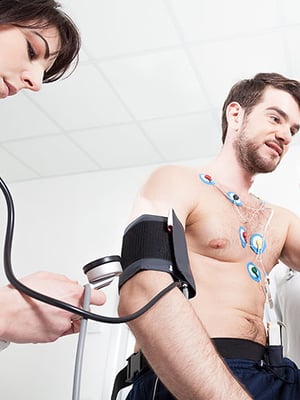 Body Composition and EKG Testing
As part of the Be WELL! Program, Dr. Frie will take important measurements regarding your body composition and physiology. This includes your weight, basic metabolic rate, body mass, bone, muscle and water percentages. You will not only have the usual blood pressure and pulse oximetry testing but also have an EKG, which will be reviewed during your appointment to ensure you heart is functioning correctly.
You will have a Physical Exam. We know this can be daunting for some people, but, once it's done, your doctor will really know your body and will be able to focus on any areas that need help or, hopefully, you can be given the all clear. After all, we expect this level of thoroughness when we have our cars in for regular servicing – aren't you more important than your car?
All this information will help us to provide you with personalized–not cookie cutter–care. We will address concerns such as weight loss, which many men and women battle for years without receiving any real help (such as medications and vitamin injections which are often needed for at least a kick start). There are many new FDA-approved, weight loss medications that can be used effectively to get you to your healthiest weight – quickly!
Looking at your personal lab results, we will also be able to look at very important health factors which are usually not assessed – such as your adrenal stress axis, hormonal levels and vitamin /nutrient levels to determine whether natural supplements, bioidentical hormones, or adrenal axis optimization are needed. Many times, a patient will arrive on antidepressants, anti-anxiety medications and be 30 lbs overweight – when all of their complaints could have been addressed by optimizing their hormones and nutrient levels.
Comprehensive Skin Exam
At Be CLINICAL, we understand that skincare is one of the biggest concerns of many of our patients – especially those living in sunny California. This is why we want to be sure to provide our patients with a full, comprehensive skin exam that will help Dr. Frie make the most personalized recommendations for skincare and rejuvenation treatments.
We use a state-of-the-art skin analysis machine to examine your skin under different light (UV, infrared, etc.) to thoroughly assess your skin's condition. We combine this with the physician exam to rule out any malignant or premalignant lesions. With this thorough work-up, we can better address your skin concerns and offer a plan to reverse any existing damage and keep your skin healthy and beautiful forever.
Options for Sexual Health
Our team understands the importance of sexual health and offers a variety of options to help with your specific concerns at any age. Dr. Frie works with her patients to achieve life-changing benefits through hormone optimization (both men and women), treatments such as diVa® non-surgical vaginal therapy and PRP (platelet rich plasma) sexual rejuvenation – again for both men and women. Dr. Frie and the Be CLINICAL team know that our patients' concerns don't stop at the bedroom door, and we want our men and women to be their best selves in all aspects of life.
Follow-Up Visits
At Be CLINICAL, we know how busy you are. Follow-up appointments can be done in the office or via our HIPAA compliant telemedicine portal. You get all the benefits of a 1-1 consultation with Dr. Frie, and the added time savings associated with being able to video conference from your laptop, tablet, or phone!
To all our patients who have undergone a 360 Health Appointment –you are now much loved members of Be CLINICAL, and we can offer you Primary Care Visits. In fact, we really advise you to use Be CLINICAL for your Primary Care so that we can continue to keep you healthy using a rare 360 degree approach that we don't see elsewhere.
Schedule Your Be WELL! 360° Health Visit with Dr. Frie Today – The whole hour and testing* costs just $360! (Plus, your insurance will likely cover a good percentage of this fee.)
Ready to get started with your own personalized Be WELL! Program? Give us a call today to schedule your visit with Dr. Fiona Frie at Be CLINICAL. Located in Danville, California, Be CLINICAL is your partner to lifelong wellness and beauty.
*Lab tests are extra but, again, may be covered by insurance.