Laser Skin Resurfacing with ProFractional™ in San Ramon
ProFractional laser resurfacing combines the best of both worlds, offering men and women maximum skin rejuvenating results with less downtime than other resurfacing treatments. The ProFractional laser by Sciton can help restore your skin's youthful and healthy appearance by addressing common signs of aging or skin damage.
Your ProFractional treatment can be completely tailored to meet your unique needs and to treat specific concerns, such as:
Acne scars
Fine lines and wrinkles
Skin laxity
Sunspots and sun damage
Hyperpigmentation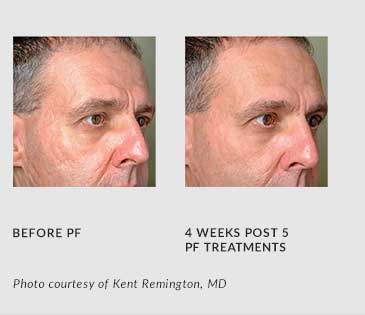 How ProFractional Laser Resurfacing Works
Sciton's ProFractional laser uses tunable ablation and computer-controlled precision to deliver deep-healing fractional therapy to the target area, creating microscopic channels in the skin that trigger the production of new collagen from deep within the dermis. The unique customization and the precision of this laser treatment set it apart from other laser resurfacing options, achieving excellent results with increased patient-comfort and rapid recovery. Only the targeted area is treated while the surrounding skin is left intact.
We will customize your ProFractional laser treatment based on your specific goals and desired outcome. Depending on what you want to address, we can adjust the strength of your treatment, allowing for a shorter recovery period to fit more easily into your schedule. ProFractional can be used on multiple areas of the face and body, including the neck, chest, decollete, and hands.
Schedule Your ProFractional Treatment in San Ramon
Achieve your skin goals with ProFractional laser resurfacing by Sciton®. Give our office a call or schedule your consultation online to discuss your own personalized ProFractional treatment with Dr. Fiona Frie at Be CLINICAL in San Ramon, California.