Lip Fillers




San Ramon & San Francisco Bay Area
Volume loss in the lips or naturally thin lips can take away from your natural beauty. As lips are often a centerpiece of the face, many patients wish to add volume or shape to their lips to improve their look. At Be CLINICAL, we offer lip fillers in San Ramon and the San Francisco Bay Area. Our lip filler treatments will give you a natural, plump pout that you can fill confident about. To learn more, book a lip filler consultation with Be CLINICAL today.
Types of Lip Filler Offered
Juvederm Volbella
This softest of the hylacross & vycross technology products, It produces an exceptionally natural look! Softness and fluidity of it produces natural but long-lasting results in the lips and surrounding areas.
Juvederm Ultra / Ultra Plus
Another dense option, and it is intended for the perioral area. It has greater viscosity to produce more volume, lift and drama.
Restylane Kysse
Lip filler designed for flexible movement and natural-looking volume while enhancing the texture and color of the lips.
Why Choose Be CLINICAL for Lip Fillers
At Be CLINICAL, results matter. We aim for each lip filler injectable treatment to be pleasant and to result in the look that you want. We'll listen and recommend the ideal filler type and injectable technique to get you the ideal lips you're looking for.
Lips are one of the most treated areas with fillers and we can deliver natural looking results or a much more enhanced look. Start by scheduling a consultation today.
What Can Lip Filler Treat?
Our San Ramon and San Francisco Bay Area lip filler treatments can treat a variety of aesthetic concerns including:

Volume Loss
Over time, the lips may lose volume and appear thin or flattened. Lip filler can restore volume to the lips and add symmetry and plumpness back to your pout.

Fine Lines & Wrinkles
The lips are prone to developing fine lines and wrinkles, particularly around the edges of the lips. Lip filler can help to smooth out these lines and create a youthful smoothness.

Asymmetry
Some people may have asymmetrical lips, with one lip larger or more prominent than the other. Lip filler can help to create a more balanced appearance and improve overall symmetry.

Definition & Shape
Lip filler can be used to define the edges of the lips and create a more pronounced cupid's bow or philtrum. An experienced injector can also sculpt a desirable lip shape with dermal fillers.

Facial Balance
Lip filler can also be used to enhance the projection of the lips, creating a more prominent pout and improving facial balance. This can improve the look of your profile.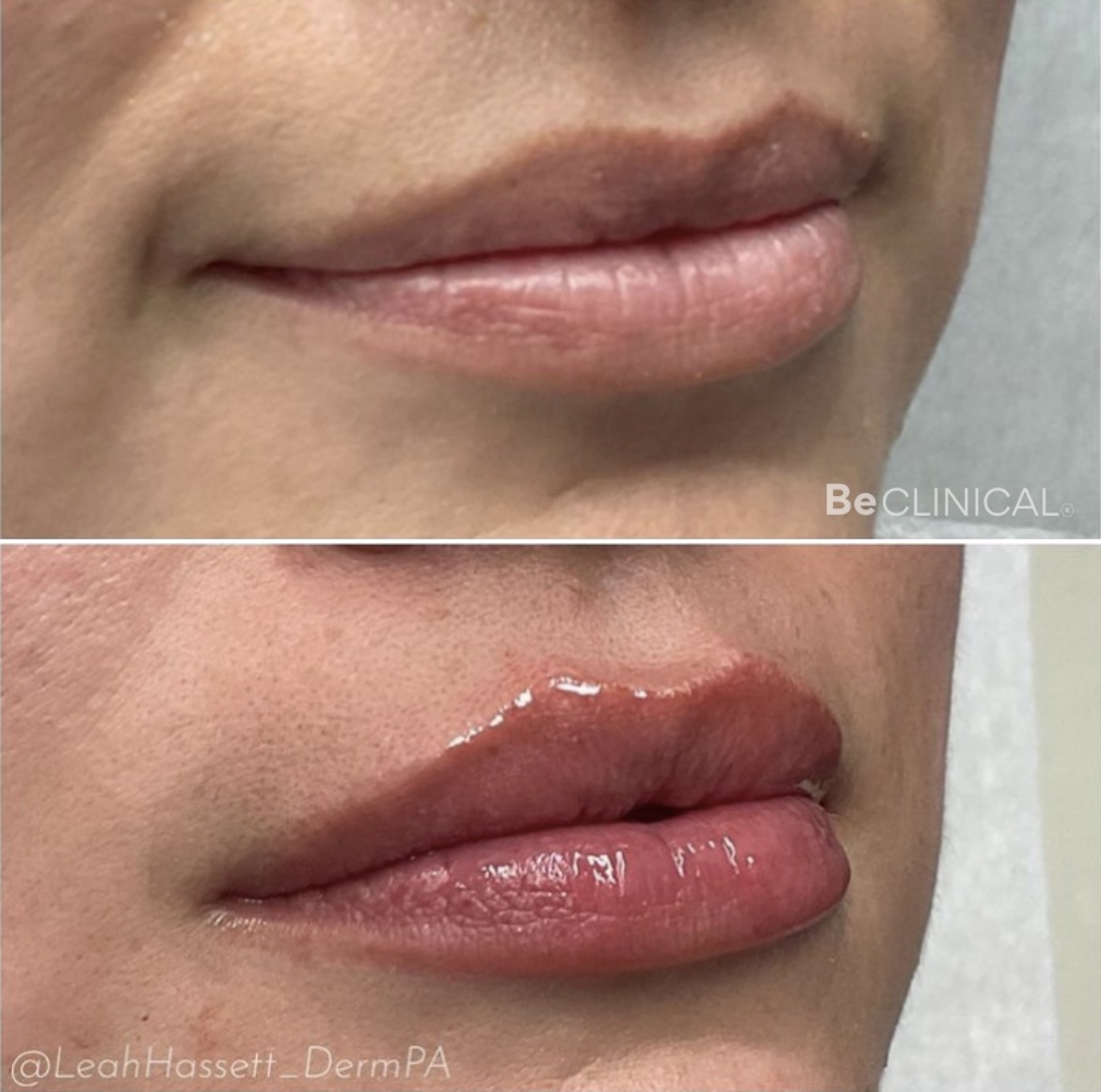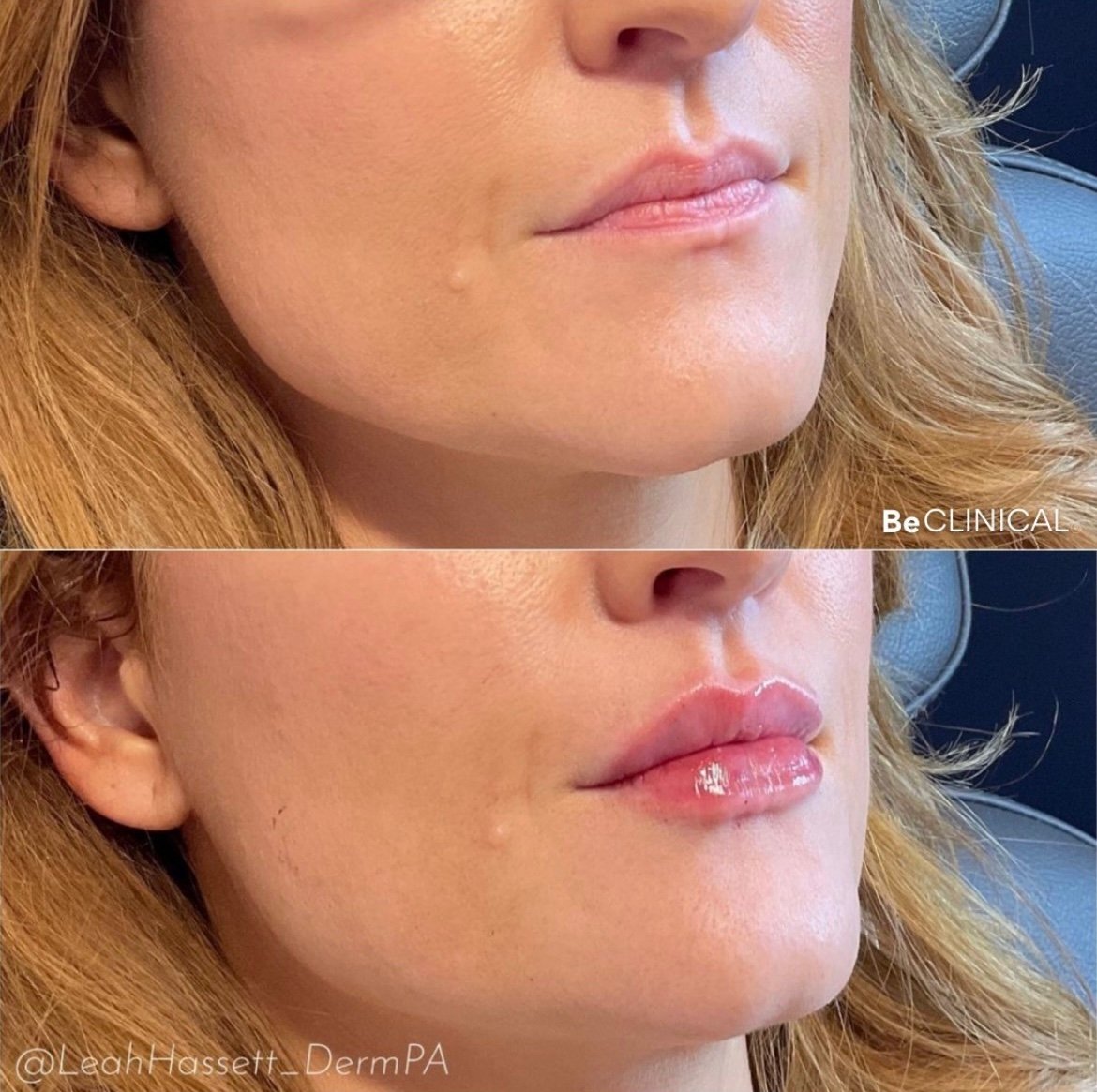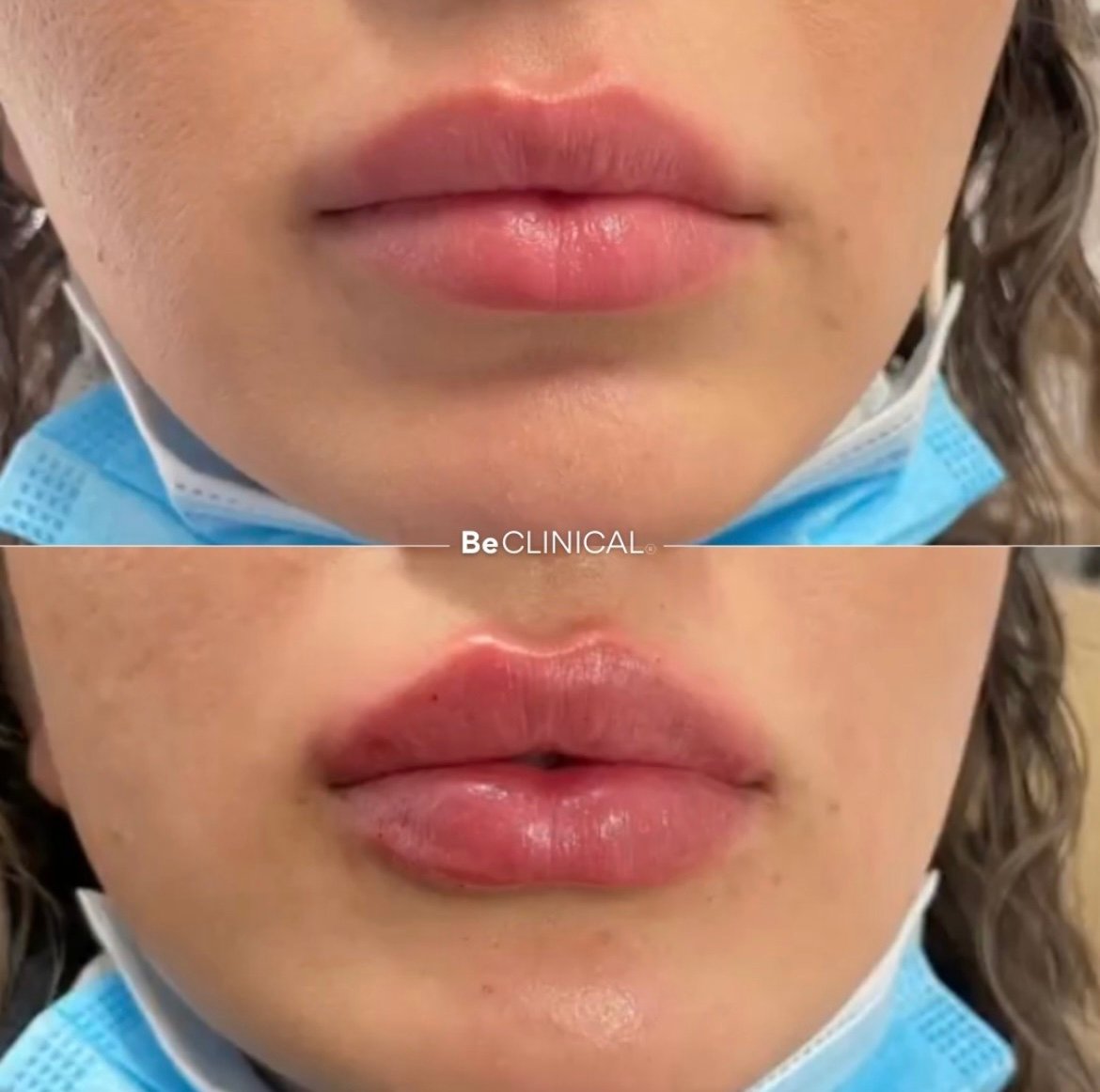 FAQ'S
What is Lip Filler Treatment Experience Like?
Lip filler is a quick and safe treatment. During your consultation, we will discuss the different types of dermal fillers that can be used and recommend one based on your aesthetic goals.
We will numb your lips prior to injection to minimize pain during treatment. Once your lips are numb your injector will strategically place filler throughout your lips to enhance their volume, shape, and symmetry. The treatment itself is fast and typically takes under 15 minutes. After injecting, your provider will massage the area to ensure an even and smooth distribution of the product. You will be provided with a series of aftercare instructions to reduce swelling and ensure the longevity of your results.
How Is Lip Filler Priced?
Lip filler at Be CLIINICAL is priced by the type of product used and how much product is needed per syringe. During your consultation we will compare filler options with you to find an option that meets your goals and budget.
We often offer specials for lip fillers and other aesthetic procedures so you can save on regular lip filler treatments.
What To Expect Post-Treatment?
Treatment with lip filler will provide you with immediate results. Right after your treatment you will notice an instant improvement in the volume, shape, and symmetry of your lips. Some patients can experience minor swelling after injections so the best results are usually apparent after swelling has had a chance to subside. Depending on the type of filler used for your treatment, results can last anywhere from 6 months to a year. To maintain your results we recommend subsequent treatments once you notice the volume in your lips diminishing.
What are the Most Common Side Effects?
The most typical side effect associated with lip filler is minor swelling. However, some patients may also experience bruising or tenderness. Any side effects associated with your treatment should subside within a few days following treatment. Your nurse injector will provide you with comprehensive aftercare instructions to accelerate the healing process.
REQUEST A

FREE CONSULTATION
Virtual or In Office Available
Fill Out the Form Below or Call 925.215.1160