Radiesse




San Ramon & San Francisco Bay Area
Do you wish you could turn back time and enjoy the smooth skin of your youth again? Are you struggling to minimize the appearance of lines and wrinkles with at-home treatments or over-the-counter topicals? At Be CLINICAL, we offer Radiesse in San Ramon & the San Francisco Bay Area. Radiesse is a popular dermal filler treatment that can treat several signs of aging. The long-lasting results from this treatment make Radiesse a top dermal filler choice. Book a consultation with Be CLINICAL today to learn more.
What is Radiesse?
Radiesse is an FDA-approved dermal filler treatment. Unlike other dermal fillers that are made of hyaluronic acid, Radiesse's main compound is calcium hydroxylapatite (CaHA) microspheres that are suspended in a gel carrier. When injected, the gel provides immediate volume, while the CaHA microspheres stimulate collagen production for long-lasting results. Because Radiesse stimulates your body's collagen production, it is an ideal choice for those seeking a more natural look.
Immediate Results
Radiesse immediately adds volume and smooths the area where it is injected. Following your treatment you will instantly notice a reduction in wrinkles and fine lines, resulting in a more youthful appearance.
Long-Lasting Results
Radiesse has the dual benefit of providing immediate results and stimulating your body's own collagen to create gradual, long-lasting results. You will continue to notice the benefits of treatment for 18 months or longer.
Little To No Downtime
Radiesse is a non-surgical procedure that takes under 30 minutes to complete. While you may notice some minor swelling from treatment, you can return to most normal activities right away.
Why Choose Be CLINICAL For Radiesse
All of our injectable treatments, including Radiesse, are offered by performed our highly trained, advanced medical professionals who have all undergone specialized training and have experience in the aesthetic industry. Our number one priority is your safety and results, which is why we offer you a comprehensive consultation to curate a treatment plan that fits your goals and lifestyle. Conveniently located in San Ramon, we offer Radiesse treatments for the entire San Francisco Bay Area.
What Areas Can Be Treated With Radiesse?
Our San Ramon & San Francisco Bay Area Radiesse treatments can treat a variety of areas of concern, including…


Cheeks
Radiesse can be used to add volume to the cheeks, which can help to restore the natural contours of the face and give a more youthful appearance. Concerns like hollowness or sagging skin can be improved with treatment. Learn more about Cheek Filler here.


Nasolabial Folds
Smile lines are a natural part of your face but they can become more pronounced or be prone to wrinkling with age. Radiesse can effectively smooth these lines while retaining your natural expressions. Learn more about Smile Line filler here.


Marionette Lines
The lines that extend from your mouth to your chin can be the hallmark of an aging complexion. Radiesse can effectively smooth these lines and lift the corners of your mouth for a restored look.


Hands
Many people forget that the face is not the only area of your body that is prone to aging. The hands lose volume and can become a prominent sign of aging as you get older. Radiesse restores volume and smoothness to the hands.


Chin
Radiesse can be used to shape and contour the chin, which can help to balance out the facial features and improve overall facial symmetry. Radiesse is an ideal choice for adding prominence and definition to the chin.


Jawline
Jawline contouring with Radiesse is an effective way to define your profile and add definition to your jaw. This treatment can greatly improve your overall facial symmetry without surgical intervention.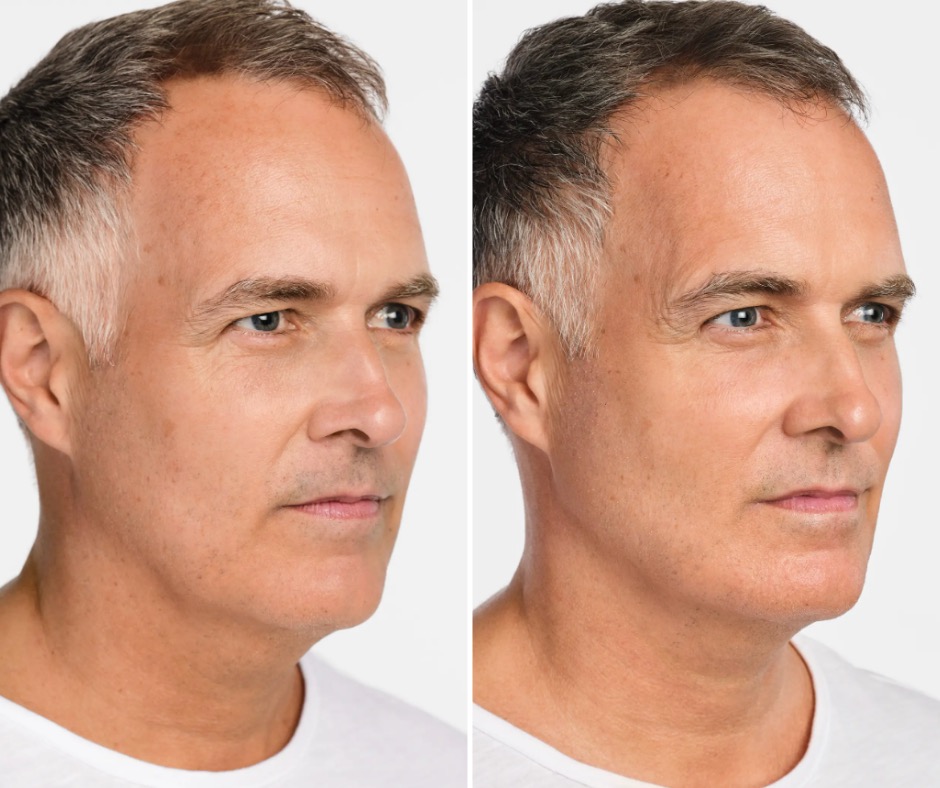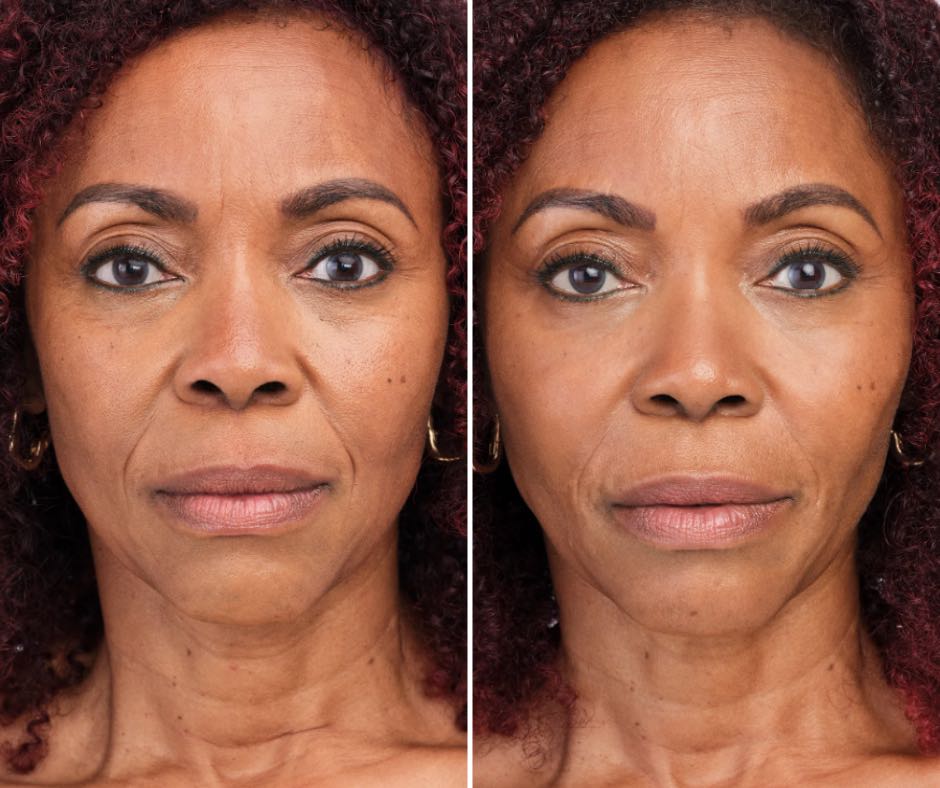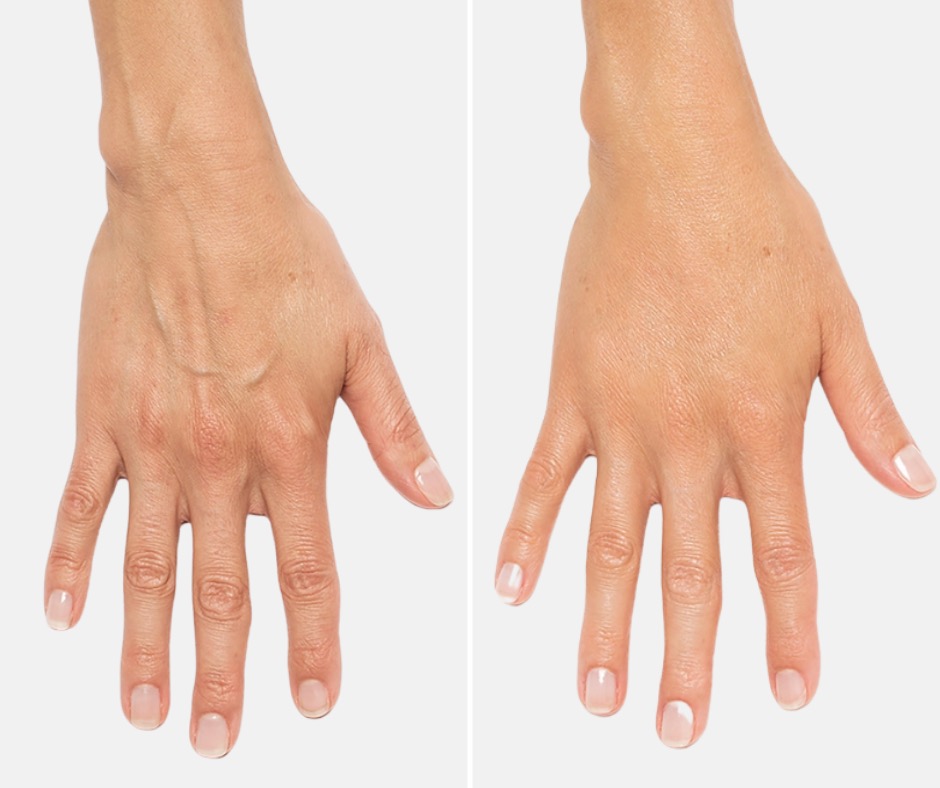 What is the Radiesse Treatment Experience Like?
We begin every Radiesse treatment with a consultation at our San Ramon & San Francisco Bay Area medical clinic. During your consultation, your provider will advise you on the amount of product you will need to achieve your desired result and give you complete aftercare instructions. A numbing medication will be applied to the area(s) of treatment prior to injection to ensure your comfort. The treatment itself is minimally invasive, fast, and comfortable, typically taking under half an hour. After your treatment it is important that you follow all instructions provided to you by your treatment professional.
What to Expect Post Treatment?
You will immediately notice an improvement in lines, wrinkles, and volume loss following your treatment with Radiesse. Some patients may experience minor swelling, redness, or bruising right after injection. However, any side effects should dissipate within a few hours to days after treatment. You will notice best results after swelling has had a chance to subside and results will continue to improve over time as your body increases its collagen production in response to treatment. The results from your treatment can last up to 18 months.
How is Radiesse Priced?
Radiesse is typically priced by the amount of product needed and the area(s) being treated. During your consultation, we will give you a transparent quote on what your treatment will cost. Make sure to check out our monthly specials for savings on Radiesse and other aesthetic treatments offered at Be CLINICAL.
What is the difference between Radiesse and other dermal fillers?
We offer a variety of dermal fillers at Be CLINICAL including Juvéderm and Restylane. These dermal fillers utilize hyaluronic acid to restore volume and treat signs of aging and can be an ideal choice for patients depending on desired results, areas being treated, and how long a patient wants results to last.
Radiesse uses calcium hydroxylapatite (CaHA) to restore or add volume but has the added benefit of stimulating your body's natural collagen production. It is a popular choice for those who want a filler with long-lasting results.
What Are The Most Common Side Effects?
Radiesse is FDA-approved and is considered a safe and effective treatment. Any side effects associated with treatment are temporary and should resolve shortly after treatment. If side effects are present they can include redness, swelling, bruising, or tenderness at the injection site. Following your provider's aftercare instructions is the best way to minimize side effects and get the most out of your results.
REQUEST A FREE CONSULTATION
Virtual or In Office Available
Fill Out the Form Below or Call 925.215.1160