PDO Threads




San Ramon & San Francisco Bay Area
Have you noticed your skin becoming less firm or beginning to wrinkle, sag or deflate? Are you looking to tighten and lift your face or body without surgery? At Be CLINICAL, our San Ramon & San Francisco Bay Area PDO Thread Lift treatments provide a non-invasive solution that stimulates natural collagen production for long-term results, while also providing instant lifting results. Schedule a consultation with our Master Aesthetic Nurse Providers to learn about how we can turn back the clock on aging and produce the natural, lifted results you've been searching for.
What are PDO Threads?
PDO Threads contain Polyladioxanone (PDO), a naturally occurring substance that has been used in medicine for over 25 years, to make patients look and feel young and confident.
The PDO Thread Lift involves lacing threads of Polydioxanone (PDO) through the deeper layers of the skin. The threads do 4 different things to improve appearance:
Lift the skin mechanically. The threads will securely hold the face, jawline, neck, breasts or buttocks up to eliminate sagging and wrinkling skin.
Stimulate collagen production. The threads encourage the body to produce more collagen, to renew the cells and develop more elasticity.
Tighten the skin through contraction. By contracting fat tissue, the PDO threads make the skin look tighter, slimmer and younger all over.
Boost microcirculation. PDO threads actually encourage new blood vessels to form, therefore improving microcirculation. Microcirculation helps the skin properly transport gases, nutrients, waste and hormones. It also regulates inflammatory responses. Better circulation means healthier and more beautiful skin.
After about 6 months, the PDO threads dissolve safely. Thanks to the increased collagen stimulation and fat tissue contraction, the improved facial or body shape will remain for an additional 3-6 months. For many patients, the effects of PDO threads last 1-2 years!
The Benefits of PDO Threads
PDO Threads are non-invasive
You can skip the pain, anesthesia, and recovery time of traditional face lift surgeries.
Threads are a long-lasting solution
While dermal fillers can produce the same effects as smooth threads, they require retreatment throughout the year. Results with PDO Threads last between 18 and 24 months on average.
Natural-looking effect
The PDO absorbable thread lift produces instant results where the patient looks immediately younger but does not look as if they "had work done."
Completely customizable treatment
Your provider can utilize thicker or thinner threads, lifting, or smooth threads depending on your needs. Threads can be used to rejuvenate many different areas of the face and body.
Works with the body's natural abilities
PDO threads stimulate natural collagen production. They also synthesize elastin and hyaluronic acid to naturally turn back the clock.
Treatment cost
When compared with other procedures such as surgery, PDO thread lifts are a much more affordable alternative.
Why Choose Be CLINICAL For PDO Threads
Don't be fooled into thinking all PDO threadlifts are the same! Our PDO Thread treatments are performed by highly trained medical professionals with the most advanced techniques and skill. Our staff are trained to consider planes and vectors of the face which greatly enhance the outcome of the procedure. We only use the highest grade FDA approved PDO threads. This is imperative in order to achieve the optimal lift and the highest stimulation of new collagen.
What Areas Can be Treated With PDO Threads?
Our San Ramon & San Francisco Bay Area PDO Thread treatments can volumize, lift, and tighten any area of the face, leaving it smoother and younger looking.
Under eyes
The skin underneath the eye is extremely thin and noticeable drooping occurs as you age. PDO threads are a safer, more affordable way to restore the undereye appearance. The threads naturally and safely induce collagen formation in an area that is prone to crepiness and which was previously difficult to treat. The advent of "smooth threads" has been a game changer for this pivotal region of the face.
Eyebrows & Crow's Feet
PDO Threads add volume, restore collagen, and tighten the skin which helps resolve set-in wrinkles around the eyes. It also allows for selectively lifting sections of the eyebrow tailored to each patient, which creates a natural-looking result.
Jawline & Jowls
Drooping skin and fat on your jawline continue to move downwards as you age due to the effects of gravity. With a PDO thread lower face lift you can tighten and lift that skin which results in a defined, natural jaw.
Cheeks & Nasolabial folds
Create 3-D lift and volume in the cheeks with PDO Threads. The volume added is similar to 1-2 syringes of dermal fillers, however lifting with threads creates tightening below the skin's surface & builds collagen for a long-lasting effect.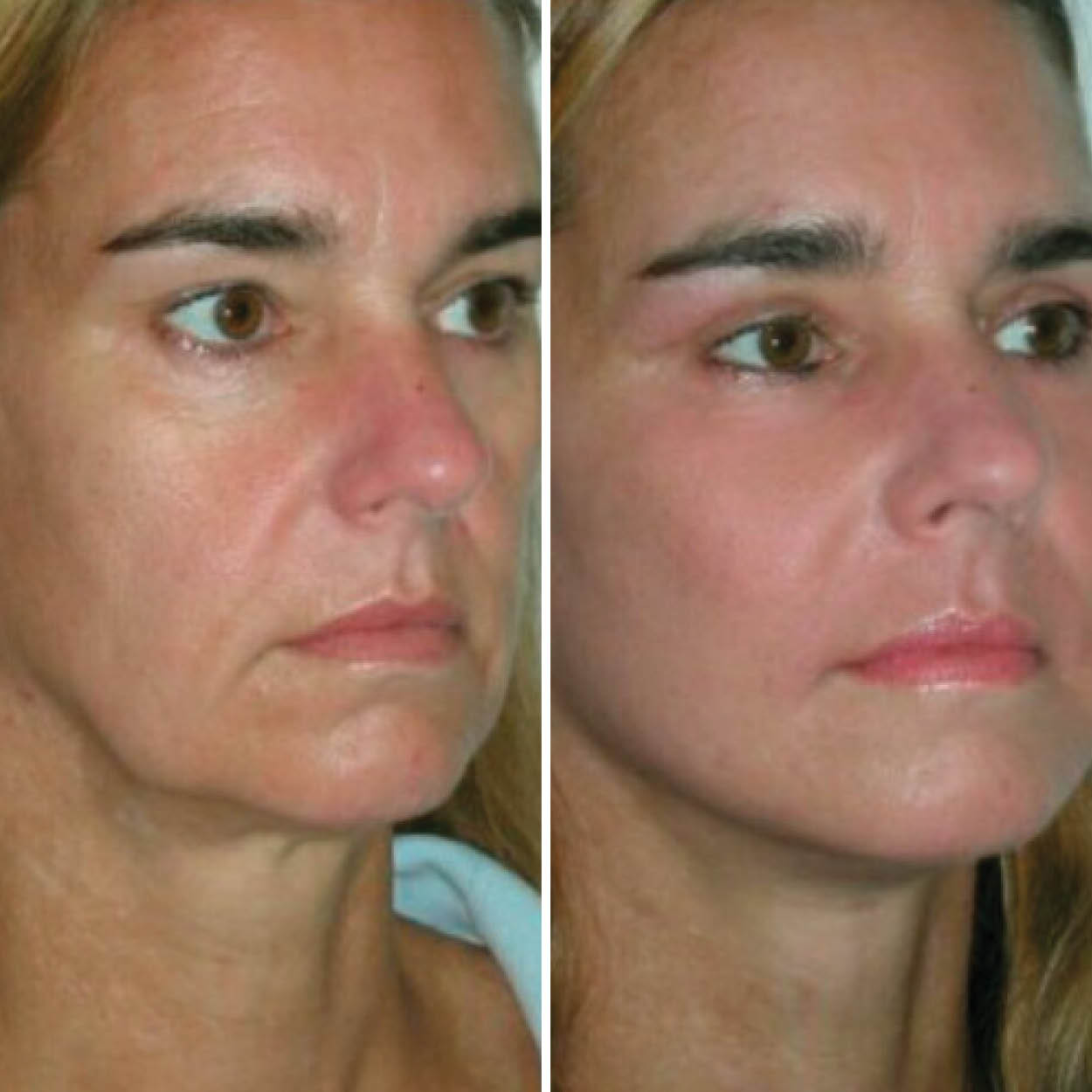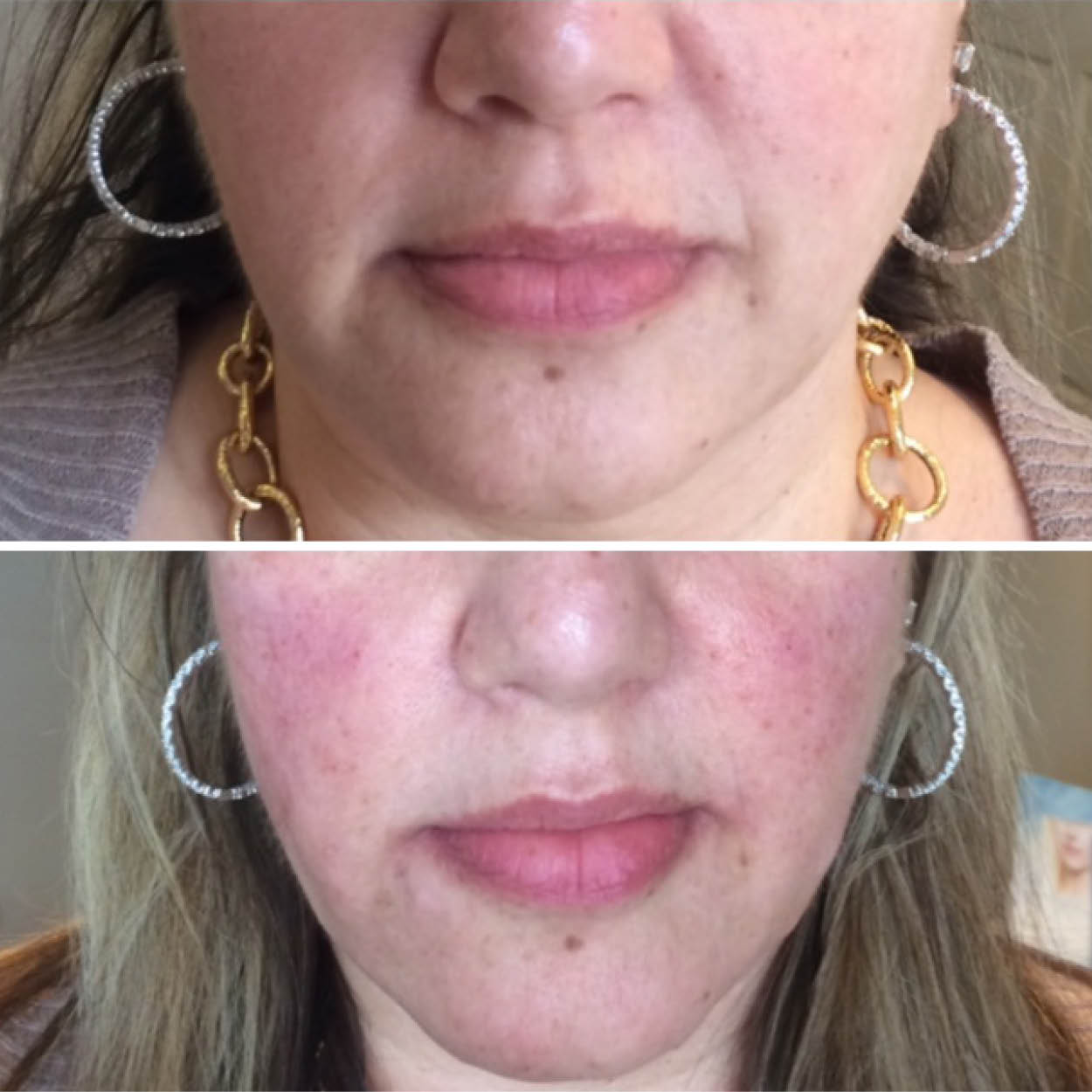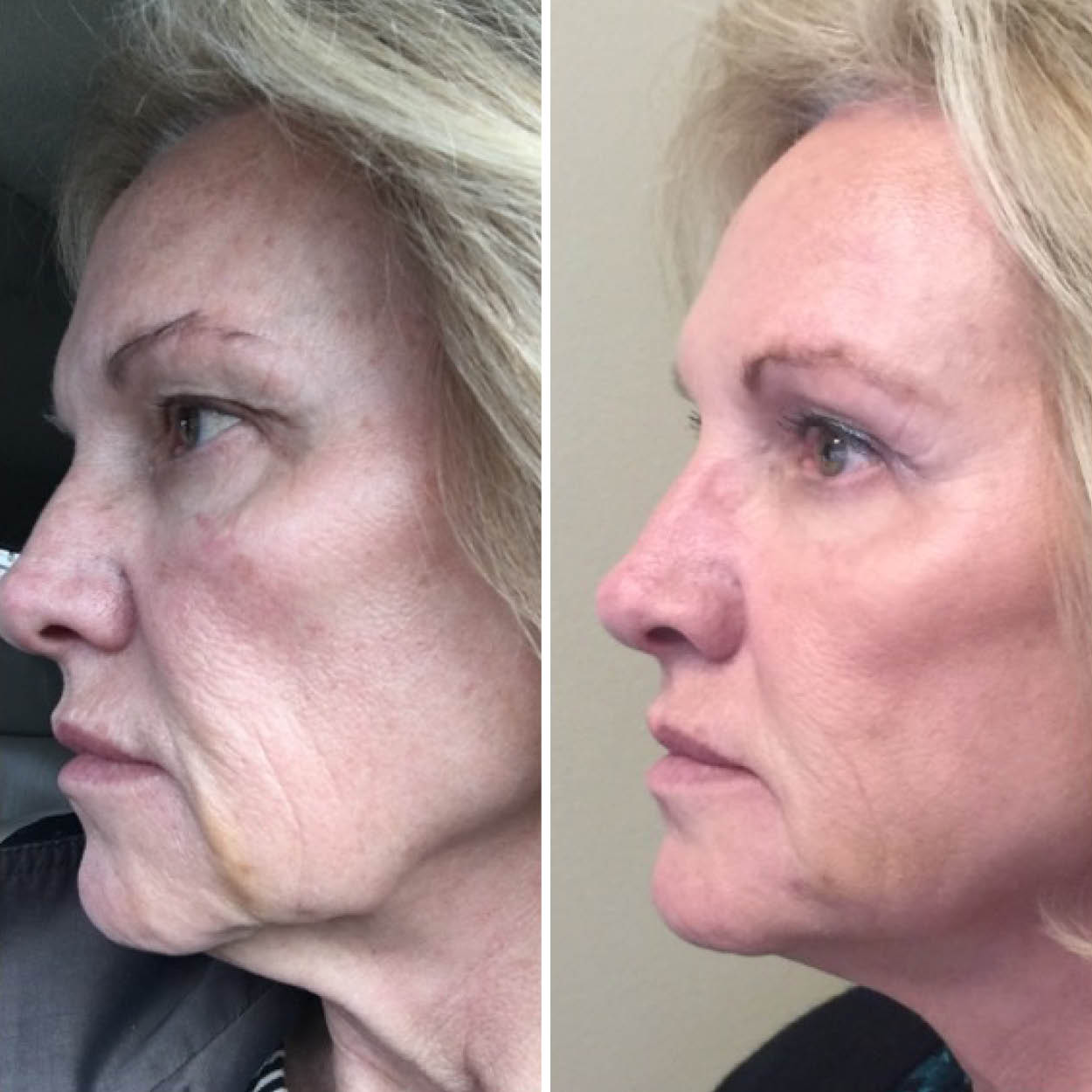 What is the PDO Thread Experience Like?
Your PDO Thread treatment at our San Ramon & San Francisco Bay Area medical spa clinic will begin with a consultation in which you and your provider will determine your treatment goals. During this minimally invasive procedure, our Injectors will use the most advanced techniques to insert the PDO threads and lift the skin upwards. Treatment typically only takes 30-45 minutes. Numbing cream is available for all injectable procedures.
What to Expect Post Treatment?
If you receive lifting absorbable threads, you will be able to see some lifting effects instantly after the threads are placed. As the PDO threads sit under the skin, they begin to stimulate collagen production. You'll begin to see a difference in the target areas within weeks, and results will continue to increase for 4-6 months. Side effects may include mild swelling and soreness for 3-5 days after the procedure, and tightness for up to two weeks. Mild dimpling may occur but will resolve within a few days. Side effects depend on the technique of insertion and types of threads used, so choosing a well-trained doctor is an action you can take to protect yourself and ensure excellent results.
How Are PDO Threads Priced?
PDO Threads at Be CLINICAL are charged by treatment area. Every patient is different, but when it comes to PDO Threads it depends on which type of threads you're using (absorbable or smooth) and which area is being treated. During a consultation, your provider will have a better idea of where you will be treated with threads and the final cost to achieve the desired results.
What Are The Most Common Side Effects?
The threads procedure is considered a very safe procedure, with even milder side effects than fillers. PDO threads are nontoxic and have not been known to cause any type of allergic reaction. The same threads have been used successfully in medicine for closing wounds, gynecology and more. You may have some swelling and bruising for the first 24-48 hours, but recovery from the procedure is minimal and it's often possible to return to work the same day.
REQUEST A FREE CONSULTATION
Virtual or In Clinic Available
Fill Out the Form Below or Call 925-215-1160