PRP Hair Loss for Women




San Ramon & San Francisco Bay Area
Long, full hair is a goal for many women. Strong and healthy hair is a symbol of beauty around the world, leaving many women looking for a way to grow their hair long. From a simple desire to grow one's hair longer to treating hair loss, the hundreds options to promote hair growth can be overwhelming. So, what really works and will result in genuine, healthy hair growth?
At Be CLINICAL we offer PRP for female hair loss and growth in the San Ramon and San Francisco Bay Area. PRP for hair loss stimualtes your hair's natural growth cycle and can both treat and prevent hair loss. Book a consultation today to learn more about our PRP treatment for female hair loss and start the journey to beautiful hair in San Ramon.
What is PRP for Female Hair Loss?
Blood is made up of two main parts: red blood cells and platelet rich plasma (PRP). PRP is used for a variety of procedures from injury treatment to anti-aging because of it's growth-rich properties. Studies have shown that PRP can have a profound impact on the hair's growth cycle and can increase the thickness of hair follicles and promote hair regrowth.
At Be CLINICAL, we inject PRP directly into your scalp. This method of treatment allows PRP to work on a cellular level and promote hair growth from within.
The Benefits of PRP for Female Hair Loss
Goes Beyond Topical Treatments
Over-the-counter products like shampoos or serums that promise hair growth only treat the surface of your scalp. PRP works deep in the hair follicle to promote healthy and sustainable hair growth.
Prevents and Treats
Whether you want to grow your hair longer, prevent potential hair loss, or treat existing hair loss, PRP offers a variety of growth-inducing benefits that can benefit any woman.
Quick and Painless
PRP injections take under an hour. The majority of patients report little to no discomfort and patients are free to return to most normal activities right away.
X-Cell PRP Treatment
Traditional PRP treatment only uses the PRP extracted from your blood sample to promote hair growth. At Be CLINICAL, we perform X-Cell PRP treatment that adds stem cell-derived factors to your PRP treatment. X-Cell includes growth factors, cytokines, biotin, peptides, and amino acids. Our treatment results in clinically-proven results that go beyond PRP alone.
Why Women Should Choose Be CLINICAL For PRP Hair Loss Treatment
Everyone's hair is unique. Women of different genetic backgrounds, lifestyles, and hair types present individual concerns that require personalized treatment. Our expert medical aesthetic team is trained in treating hair loss and curating customized treatment plans for hair loss and growth. When you visit Be CLINICAL, your results will be our top priority.
What Type of Female Hair Problems Can Be Treated With PRP?
Our San Ramon & San Francisco Bay Area PRP female hair loss treatments can treat a variety of areas of concern, including…


Hair Growth
Struggling to grow your hair out? While most women grow hair at a rate of 1/2 an inch per month, others may have hair that grows slower or stops at a certain length. PRP can provide the boost you need to grow long, beautiful hair.


Thinning Hair
Female pattern baldness is unique from male pattern baldness. Most females will notice thinning along their hair part and a reduction in overall hair thickness. PRP can provide a way for women to treat and prevent female pattern baldness.


Hereditary Hair Loss
If female pattern baldness runs in your family, prevention is better than treatment. PRP can offer women a way to get ahead of hair loss and treat spots already effected by hereditary hair loss.


Postpartum Hair Loss
Many women will experience a surge in hair growth during pregnancy only to lose massive amounts of hair after giving birth. Our PRP treatments are safe for breastfeeding mothers who want to prevent or treat postpartum hair loss.


Menopausal Hair Loss
The hormonal changes that occur during menopause can cause many women to lose hair or having thinning sections of hair. PRP injections offer an effective way to treat hair loss as a result of menopausal changes in the body.


Styling-Related Hair Loss
If you've spent years putting your hair in tight buns or ponytails, you may notice a very specific pattern of hair loss due to tension caused by styling. PRP can restore your hair and treat patches of baldness or hair thinning.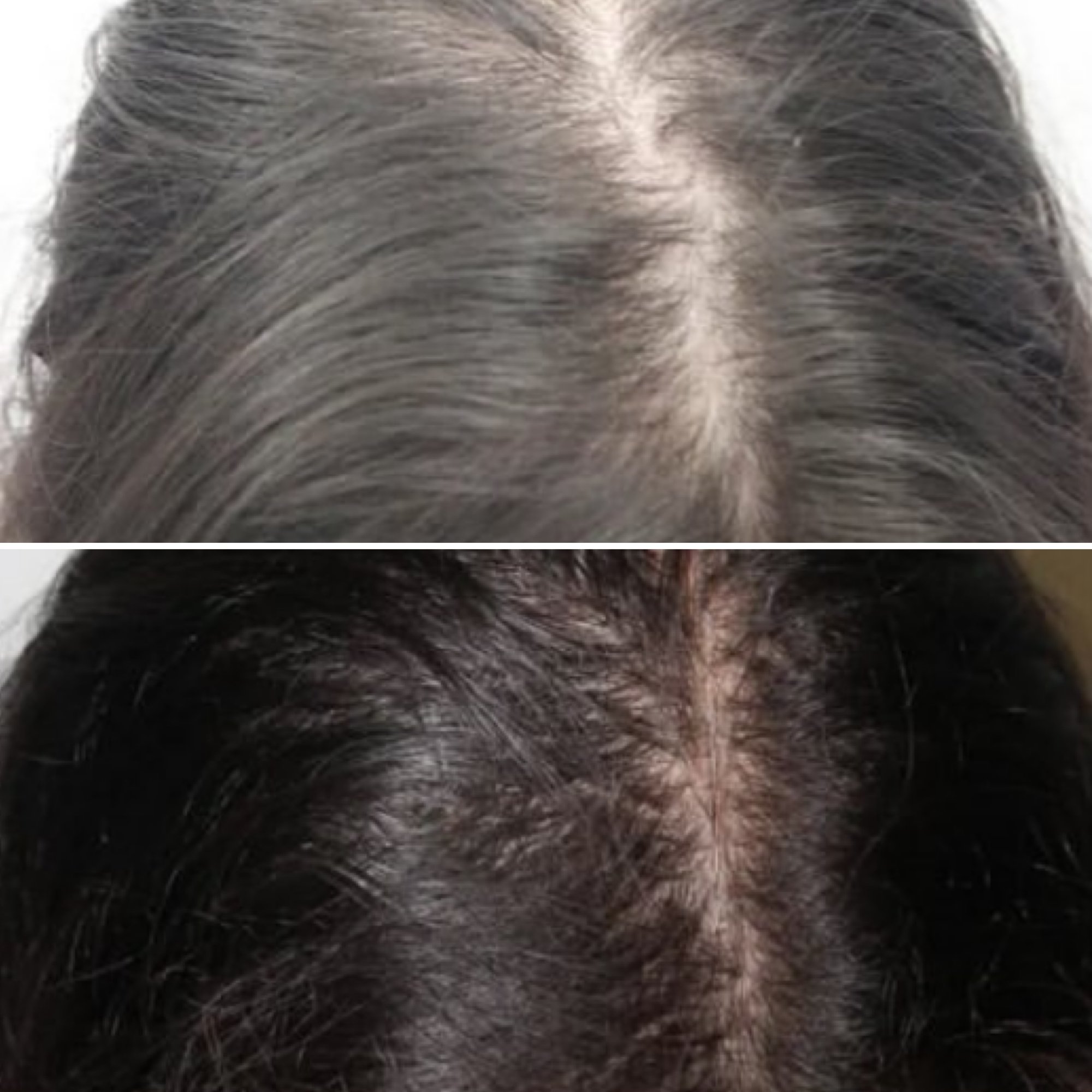 What is PRP Treatment for Female Hair Loss Like?
We begin every hair loss treatment at our San Ramon and San Francisco Bay Area clinic by evaluating the current state of your hair and talking about your hair goals. During a consultation, your medical provider will advise you on how many treatments you will need and what kind of results you can expect.
The treatment itself is fast and begins with a blood extraction. Once blood is collected, it is put into a medical device that separates red blood cells and the platelet rich plasma. The PRP can then be injected directly into the area(s) you want to treat for hair loss or growth.
There is no downtime required after the procedure. You can immediately return to work or most normal activities.
What to Expect Post Treatment?
The results from PRP hair loss treatment are gradual as a complete hair growth cycle can last from 2-8 years. Some women will need multiple treatments to see the full benefits of PRP.
Most women will see increased hair growth a few months after their initial treatment and maintenance treatments. We will monitor your progress and adjust your treatment plan as needed.
How is PRP for Hair Loss Priced?
At Be CLINICAL we price our PRP treatments by injection. You can choose to purchase one treatment at a time or ask us about package deals that will you save money and help you get the most out of PRP treatment.
What Are The Most Common Side Effects?
PRP for female hair loss is a safe and effective treatment. Because the treatment is non-surgical and doesn't use any pharmaceutical medications, adverse reactions are rare. If you do experience side effects they are usually mild and go away shortly after your treatment.
REQUEST A FREE CONSULTATION
Virtual or In Office Available
Fill Out the Form Below or Call 925.215.1160